ESI Student Innovation Programme invites to participate in online webinar on attracting sustainable financing
ESI Student Innovation Programme of the Stockholm School of Economics in Riga invites to participate in an online webinar on June 9th at 16:00 on attracting sustainable financing to your idea - types of funding, their price and attraction process.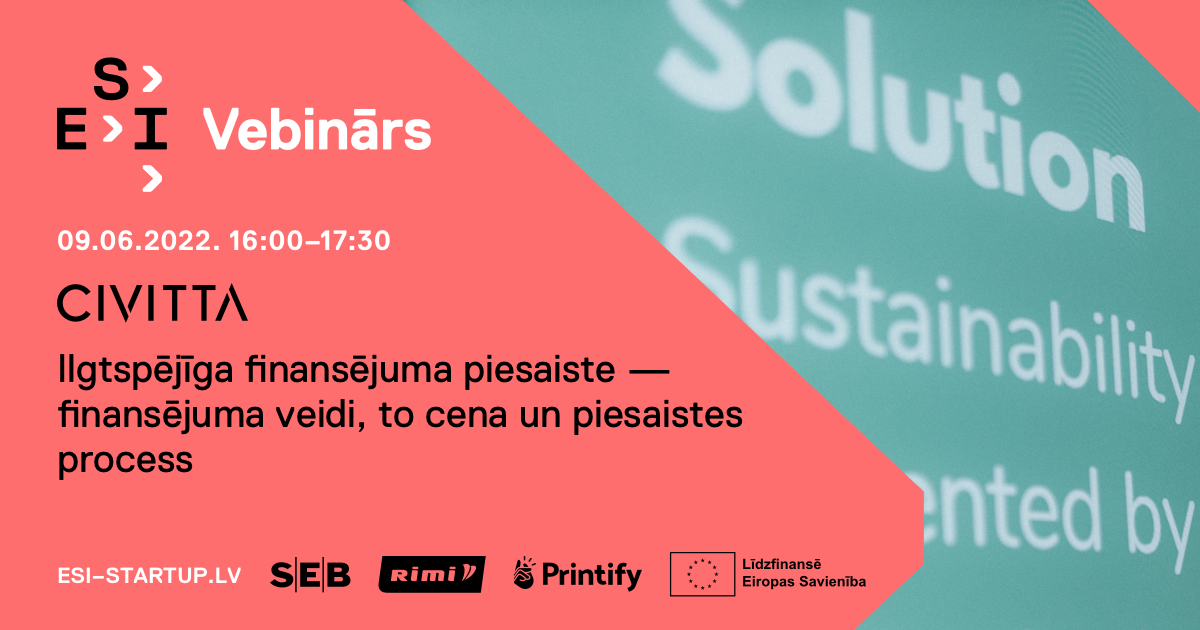 The programme is jointly implemented by several representatives of education and industry – Stockholm School of Economics in Riga, Latvian Academy of Arts, Riga Graduate School of Law, Rēzekne Academy of Technology, consulting company Civitta Latvija and industry partners (Latvian Social Entrepreneurship Association, Zero Waste Latvia, Techhub, Institute of Solid State Physics, University of Latvia, Rezekne Business Association, Latvian Electrical and Electronics Industry Association).
On June 9th at 16:00, an online webinar on how to attract sustainable financing for business ideas will take place.
The webinar will be led by one of the programme's industry partners, the consulting company Civitta Latvija and its representative Kristaps Budrēvics.
At the event you will learn about:
The available types of funding and the breakdown of these types according to the stage of your business idea;
Investment, loan, grant attraction process;
The prices and alternative costs of each type of financing;
Creation of a sustainable capital structure of the company.
The event will be held in Latvian. It is required to register for the event through the following link: https://tinyurl.com/bdhvkjuh
More information about the ESI Student Innovation Programme and application for other events:
Website: https://esi-startup.lv/
Facebook page: https://www.facebook.com/ESIdrosmigs
LinkedIn page: https://www.linkedin.com/company/esidrosmigs
E-mail: info@esi-startup.lv
---

The programme is co-financed by the European Regional Development Fund, Printify, SEB and RIMI.
Project number: 1.1.1.3/21/A/008.a.