EMBA Programme
The Executive MBA is a challenging, small, and exclusive programme that prepares you to take on new leadership challenges. Studying in the Executive MBA programme is also about sharing your knowledge and ideas with other participants and learning from each other.


Quick Facts
The programme is designed especially for experienced managers and professionals.
Two-year module-based programme
Four days per month, in-person classes plus preparation and assignments before and after modules
Two mandatory international immersion trips to Asia and Sweden
Elective courses with SSE Sweden and GNAM
English as the language of instruction
Up to 30 students admitted per year
A diverse and supportive network of professionals, mentors, and peers within the SSE group network
Accredited by the Latvian Ministry of Education and Science, eligible for PhD studies in other universities
Diploma of Executive Master of Business Administration issued by SSE Riga
Overview
The Executive MBA classes are comprised of around 25-30 students with various academic and professional backgrounds who both can contribute to and benefit from the programme through its unique experience of group synergy.
The Executive MBA programme offered at SSE Riga combines a focus on intellectual rigour with serious business training in a format that permits business executives to continue their studies while working.
This two-year module-based programme will broaden students' existing knowledge in business administration, promote a professional career and provide global cooperation opportunities within the SSE Alumni network.
The programme involves faculty from the UK, Sweden, Finland, Spain, Italy, Austria, US, Switzerland and Singapore, as well as from the Baltic countries.
Our team of international lecturers consists of professors who have extensive teaching experience as well as achievements in applied research and consulting.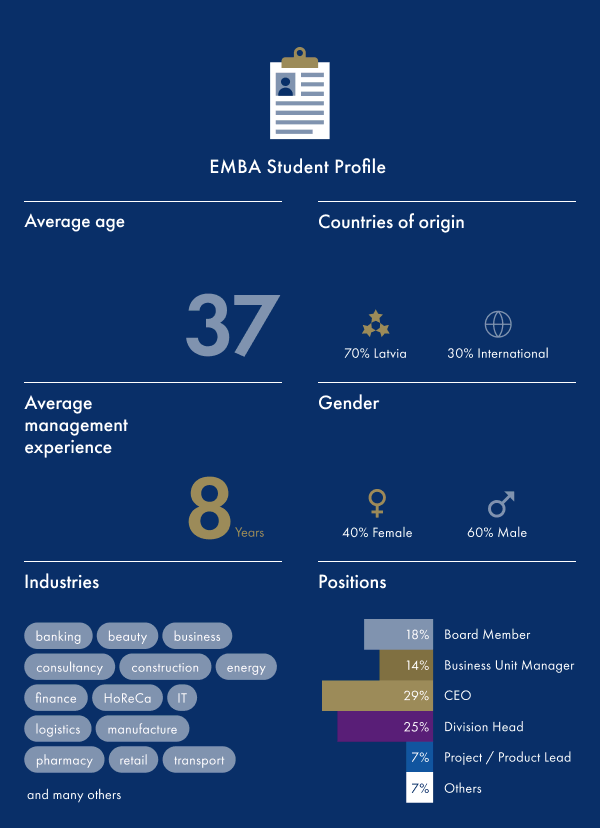 Networking Opportunities
During the SSE Riga Executive MBA programme the students will form a network with like-minded individuals that will last a lifetime.
As an SSE Riga Alumna/Alumnus, the graduate will join the network of SSE Riga Alumni and an even wider network of SSE - an extensive network of more than 15,000 graduates in leading positions in business and government spread around the globe.
The SSE Riga Executive MBA programme was launched in 2002 and as of today, 407 individuals have been awarded an Executive MBA diploma from SSE Riga.
Application
Applications for the Executive MBA programme are reviewed as soon as they are received.
There are two application deadlines - by the 1st of March and by the 1st of June - to organize the Admissions with the best possible outcome to ensure a professionally strong and diverse group. Regardless of which term you apply and are accepted, your studies will begin in September.
To begin the admissions process, or if you have any questions or concerns, we recommend that you sign up for an individual consultation with our Programme Advisor. This informal meeting has no obligations and is a discussion to help you understand if this is the programme for you, as well as to get a better understanding of the application, admissions, and study processes.

Sign up for an individual consultation with Programme Advisor: