Master's Programme
Together with partners, SSE Riga is excited to offer a two-year international Master's programme in Service Design Strategies and Innovation (SDSI).
This is a new joint master's programme with a focus on interdisciplinary studies and cross-specialisation. The programme partners include the Art Academy of Latvia, University of Lapland, Stockholm School of Economics in Riga, Estonian Academy of Arts, Kuldīga Municipality and Kuldīga Artists' Residence.

Services design is a multidisciplinary and integrative field, therefore the programme aims to combine knowledge, insights, methods and tools from different disciplines - design, business, technology and social sciences.

The programme was launched in 2020/21 and offers a unique opportunity to combine academic studies and practise-based service design with companies.
SSE Riga Lecturer and PhD Candidate Inga Gleizdāne is SDSI Local Programme Director and coordinates the SDSI course at SSE Riga.
Study Process
The study process includes study periods abroad to Kuldīga in Latvia and Rovaniemi in Finland. Occasional workshops might be organised in Tallinn, Estonia and Riga, Latvia.
Students will have access to vast resources of SDSI partner schools, including prototyping studios and makerspaces in an international learning and networking environment. SDSI locations are 'safe countries' characterised by societies striving for social and economic development, wellbeing, and culture.
SDSI emphasises the development of leadership skills, which support students becoming change facilitators who can contribute to innovative, effective and socially responsible service organisations.
Graduates of this programme will be equipped with the knowledge and skills to be prepared for an uncertain future. They will know how to identify and satisfy unmet needs in a wide range of sectors. They will execute leadership roles in organisations in the private and public sectors, spearheading change processes, envisioning the future, managing multidisciplinary teams and overcoming innovation roadblocks.

Who Can Apply
Everyone with a minimum of two years of professional work experience and a Bachelor's degree in any field of study.
A mid-level or senior professional from industry or the public sector who can demonstrate creative talents and leadership in innovative projects

Self-employed professional

Emerging entrepreneur

Motivated individual

How to Apply
Read more about the SDSI admissions dates and procedure at https://apply.sdsi.ma.
Less than 30 students will be admitted to the programme annually, enabling individual and personalised approaches to the study process and providing close networking among students and teaching personnel.
Graduates will be awarded a Master's double degree, one from the Art Academy of Latvia and one from the University of Lapland.
Students interested in this international joint degree Master's programme can find additional information on the SDSI website.
For questions, please, contact the SDSI Head of Programme, Ilze Kundziņa at ilze.kundzina@sdsi.ma or +371 2837 3039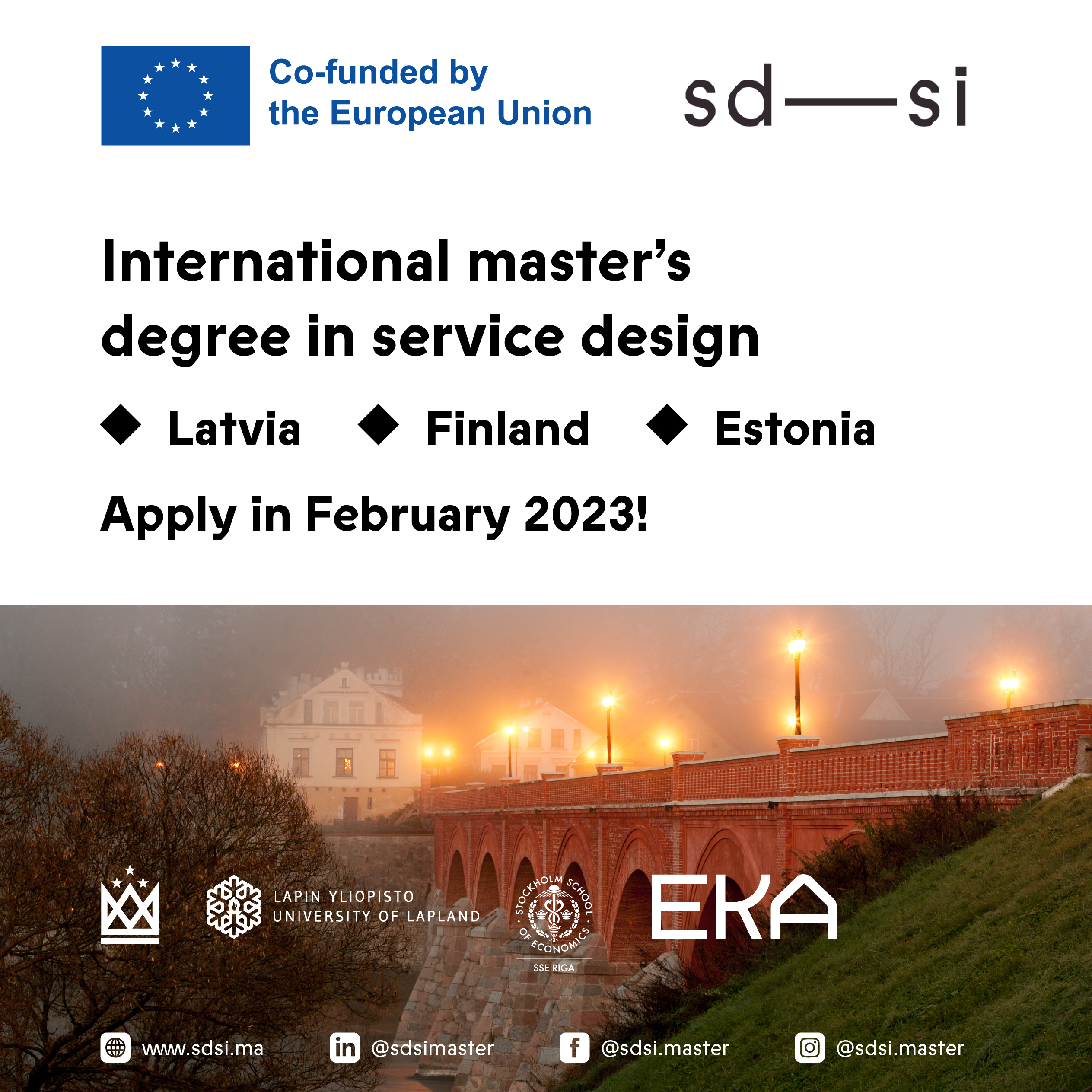 The international Service Design Strategies and Innovations' programme becomes an Erasmus Mundus Joint Master's degree
On behalf of the SDSI consortium, in September 2022, the Art Academy of Latvia (AAL) signed the grant agreement with the European Education and Culture Executive Agency on the Project No. 101082388 "Joint Master's Degree Programme in Service Design Strategies and Innovations" (SDSI). SDSI is an international masters' degree that is jointly designed and delivered by 3 Nordic partners – the AAL, the University of Lapland in Finland, and the Estonian Art Academy. The Stockholm School of Economics in Riga, Latvia, participates in the programme as an associate partner, providing lectures and knowledge transfer from the business domain. Starting with the study year 2023/2024, SDSI will officially become an Erasmus Mundus Joint Masters' programme.
Duration of the Project is from 01 October, 2022 till 30 November, 2028. During this period, four student intakes will be organized, starting with the study year 2023/2024.
During each intake around 30 international students will be admitted – at least 121 students in total for the duration of the project. 100 of the students will originate from the Erasmus+ Programme Countries, and 60 of them will be selected for the Erasmus Mundus scholarship of 1400 EUR per month for the duration of their studies (no more than 10% of the total number of scholarships will be awarded to students from the same nationality). Additional students will be selected and scholarships awarded to 21 students from the groups of the Neighbourhood, Development and International Cooperation (NDICI – 18 students) countries, as well as the Instrument for Pre-Accession Assistance (IPA – 3 students) countries. SDSI students will spend at least two study periods of 30 ECTS in two countries which are different from their country of residence - Latvia, Finland and Estonia.
The total grant amount of the Project No. 101082388 is 4 899 600.00 EUR, including 2 721 600.00 EUR that are allocated for student scholarships. The project has also two other associate partners - the Kuldīga District Municipality and the NGO "Kuldīga Artists' residence '' - who will both ensure extra-curricular and cultural experiences for the SDSI students at their Latvian study location, the town of Kuldīga.