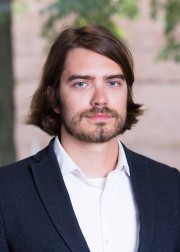 Kravčenko Dmitrijs
Associate Professor. BSc Courses: Entrepreneurship Specialisation; Organisation and Management
Department of Business and Management
Dmitrijs joined the Stockholm School of Economics in Riga in 2019, having previously worked at the University of Warwick and the University of Sussex. Prior to this, he completed an ESRC-funded Doctorate in Management from the University of Warwick Business School, focusing on the development of practice-based theory of organizational memory. He remains affiliated with the Innovation, Knowledge and Organisational Networks Research Unit at the Warwick Business School.
His primary research interests revolve around understanding the effects of collective knowledge and memory on organizations and on the process of organizing; looking at questions such as 'who decided what qualifies as knowledge' and 'how is information and knowledge perpetuated through time'. His secondary research interest lie in exploring the impact of digital technologies on organizational design (i.e. what happens when people begin working for algorithms etc.). Dmitrijs is a versatile qualitative researcher with experience in both public (NHS) and private (architecture and construction) sectors, using a range of different methods. His current research looks at the role of collaborative technology in (re)shaping institutionalised regimes of practices. He is also part of Horizon 2020 research project (DISCE) that looks into the sustainability of creative economies in the EU.

Topics of interest
Organizational memory and knowledge management
Automated decision-making and organizational design
Impact of digital technology on work practices in complex settings
History of management and organizing

Education
Doctor of Philosophy, Warwick Business School, UK

Selected publications
Kravcenko, D. (2018) Historical introduction. In: Taylor, F W (ed.) The Principles of Scientific Management. Walnut Publishing House, London, pp. 4-16.

Kravcenko, D. (2018) Digital economy in Latvia: A case of paradigmatic misalignment. In: Ranft, Florian, O'Reilly, Jacqueline and Neufeind, Max (eds.) Work in the digital age: challenges of the fourth industrial revolution. Rowman & Littlefield, Lanham, Maryland, USA.
Ferlie, E, D'Andreta, D, Nicolini, D, Ledger, J, Kravcenko, D. and de Pury, J. (2017) NHS top managers, knowledge exchange and leadership: the early development of Academic Health Science Networks. Project Report. Health Services and Delivery Research, NIHR Journals.
Kravcenko, D. and Swan, J. (2016) Talking through objects: the socio-political dynamics embodied in boundary objects in architectural work. In: Tell, Frederik, Berggren, Christian, Brusoni, Stefano and Van de Ven, Andrew (eds.) Managing Knowledge Integration Across Boundaries. Oxford University Press, Oxford, pp. 171-190.

Membership in professional organizations
Executive board member of the International Conference on Organisational Learning, Knowledge and Capabilities (OLKC).