Zabolis Partners awards scholarship for research paper in Financial Economics 2021
It must be especially nice to complete the study year with an unexpected scholarship!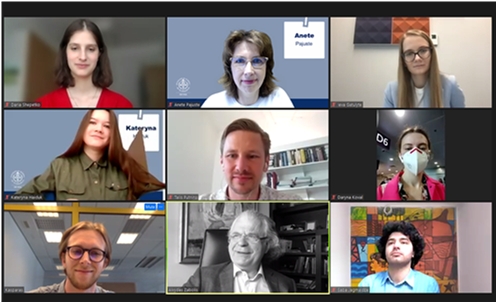 It must be especially nice to complete the study year with an unexpected scholarship!
On May 28, the annual Zabolis Partners Scholarship of EUR 1500 was awarded to SSE Riga second-year students Kateryna Haiduk (Ukraine), Saba Jagmaidze (Georgia), Daryna Koval (Ukraine), and Daria Shepetko (Ukraine) for their outstanding Financial Economics research paper "A non-naïve approach to naïve diversification". The scholarship was initiated by alumni working at Zabolis Partners. This is already the fifth year that the company has awarded the authors of the best term paper in the Financial Economics course, which is known as one of the most demanding courses in the study curriculum.
The winning paper was selected by the company. According to the Zabolis Partners evaluation team: "The group stood out among others with a thorough understanding of the research subject, strong methodology, and interesting, clearly defined findings, highly applicable in practice. We would also like to thank other teams for their high-quality work."
Says Rector Anders Paalzow: "Now that the award is celebrating its fifth anniversary, I would say it goes far beyond just being "an award". It is also a source of inspiration and a token of work well done. Furthermore, I hope that Zabolis Partners' generosity and engagement will serve as a role model for the award-winners and our students in general".
Daria Shepetko from the award-winning student group says: "It was an absolute pleasure to see how our research evolved from scattered ideas to a coherent industry-relevant product! Many thanks to professors Anete Pajuste and Talis Putnins for providing support and creating a network of top-notch experts to whom we could reach out! It was a challenge, but I loved the process!"
Once again, congratulations to the winning team!
Zabolis Partners is an investment group driven by the goal of enriching local economies through investments in digital transformation, clean tech, and urban development.