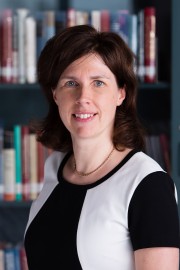 Pajuste Anete
Professor, Head of Accounting and Finance Department. BSc Courses: Financial Economics; Accounting and Finance. EMBA Course: Management Accounting and Finance
Department of Accounting and Finance
On leave (Fall 2021)
Anete Pajuste holds a PhD in Finance from the Stockholm School of Economics (Sweden). She is currently a visiting senior fellow at the Program on Corporate Governance of Harvard Law School. Her primary research focus is on corporate governance, corporate finance and law and finance. Her articles have appeared in several journals including the Journal of Corporate Finance, the Corporate Governance International Review, the Oxford Review of Economic Policy, and the Journal of Banking and Finance. She is a research member of the European Corporate Governance Institute (ECGI).
Professor Pajuste has been teaching accounting and finance related courses since 2000, at the undergraduate, MBA and executive education level, and has an extensive experience and training in participant centered learning methods such as cases and experiential learning.
In parallel with her academic work, Anete serves as a consultant on firm valuation, cost accounting, investment management and financial planning issues and shares her practical knowledge from investing in equities, index funds and real estate.
Research interests
Corporate governance; corporate finance; ESG; family firms
Selected publications
2,312 citations (source: Google Scholar, September 2021). Papers with more than 100 Google Scholar cites: Multiple large shareholders and firm value (1099); What do firms disclose and why? (367); Controlling shareholders, agency problems, and dividend policy in Finland (204); Emerging owners, eclipsing markets? (162).
Management Reporting Complexity and Earnings Management: Evidence from the Baltic Markets, with Reinis Novickis and Elva Poriete, Baltic Journal of Management, vol. 16(1), p. 47-69, 2020.
Loyalty Shares with Tenure Voting – Does the Default Rule Matter? Evidence from the Loi Florange Experiment, with Marco Becht and Yuliya Kamisarenka, Journal of Law and Economics, vol. 63(3), p. 473-499, 2020.
The Effect of Domestic to Foreign Ownership Change on Firm Performance in Europe, with Mārtiņš Lindemanis and Artūrs Loze, International Review of Financial Analysis (April, 2019).
Wage dynamics and worker mobility during deep recessions, with Hernan Ruffo, Baltic Journal of Economics, vol. 19(1), p. 52-83, 2019.
The Media and Firm Reputation Roles in Corporate Governance Improvements: Lessons from European Dual Class Share Unifications, with Beni Lauterbach, Corporate Governance: An International Review, vol. 25(1), p. 4-19, 2017.
The Long-term Valuation Effects of Voluntary Dual Class Share Unifcations, with Beni Lauterbach, Journal of Corporate Finance, vol. 31, p. 171-185, 2015.
Private Benefits of Control and Dual-class Share Unifications, with Benjamin Maury, Managerial and Decision Economics, vol. 32, p. 355-369, 2011.
Do Good Governance Provisions Shelter Investors from Contagion? Evidence from the Russian Crisis, Economics of Transition, vol. 15(4), p. 807-824, 2007.
What Do Firms Disclose and Why? Enforcing Corporate Governance and Transparency in Central and Eastern Europe, with Erik Berglöf, Oxford Review of Economic Policy, vol. 21(2), p. 178-197, 2005.
Multiple Large Shareholders and Firm Value, with Benjamin Maury, Journal of Banking and Finance, vol. 29, p. 1813-1834, 2005.
Emerging Owners, Eclipsing Markets? Corporate Governance in Transition, with Erik Berglöf, in "Corporate Governance and Capital Flows in a Global Economy" edited by P.K. Cornelius and B. Kogut, Oxford University Press, 2003.
Firm Performance and Ownership in Latvia, Baltic Economic Trends, 2003.
Controlling Shareholders, Agency Problems, and Dividend Policy in Finland, with Benjamin Maury, Finnish Journal of Business Economics, vol. 1(2), p. 15-45, 2002.
Risk Factors and Predictability of Stock Returns in Central and Eastern Europe, with Peter Högfeldt and Gatis Kepitis, Emerging Markets Quarterly, Summer, p. 7-24, 2000.


Working papers
The Life-Cycle of Dual Class Shares, with Martijn Cremers and Beni Lauterbach, ECGI Finance Working Paper No. 550/2018 (August 2019). (Revise and resubmit)
ESG versus AI-generated impact measures: Implications for investors, with Benjamin Maury. Working paper (July 2020).
Boardroom Racial (In)equality and Stock Returns: Evidence from the Black Lives Matter Protests, with Maksims Dzabarovs and Romans Madesovs, ECGI Finance Working Paper No. 789/2021. (Under review)

Membership in professional organisations
Ad hoc referee: Journal of Corporate Finance; Journal of Financial and Quantitative Analysis; Journal of Banking and Finance; Journal of Business Finance and Accounting; European Financial Management; Journal of Institutional Economics; Israel Science Foundation; Economics of Transition; Journal of Management and Governance; Journal of Comparative Economics; International Review of Law and Economics
Recent grants and awards
Grant from the Baltic American Freedom Foundation, 2021-2022
Grant from Latvijas Zinātnes Padome (lzp-2018/2-0067), 2018
Grant from the Global Development Network (No.586), 2013