ESI student innovation programs invites to join webinar about "Measuring the social impact – how to report and capture it"
ESI Student Innovation Programme of the Stockholm School of Economics in Riga invites you to participate in an online webinar on July 28th at 16:00 on how to measure the social impact of entrepreneurship hosted by Dr. Pablo Munoz Roman, professor at Durham University in the United Kingdom.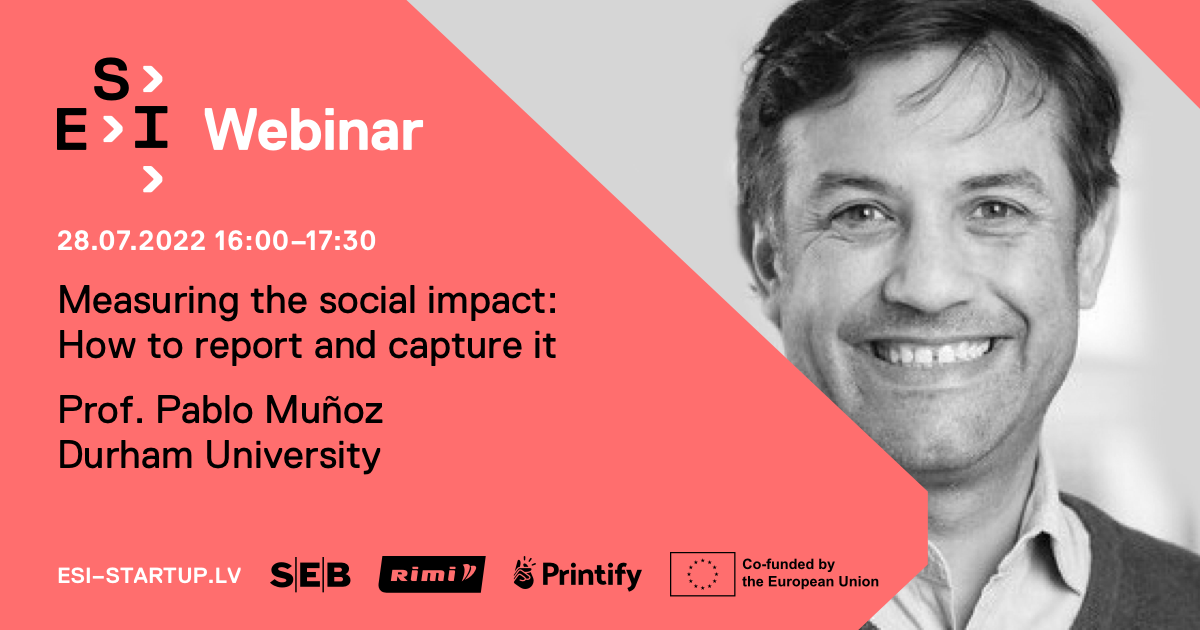 On July 28th at 16:00 Dr. Pablo Munoz Roman, professor of entrepreneurship in Durham University, will host a webinar about social & sustainable entrepreneurship. During the years he has done numerous research works in the sustainability niche and has gained media coverage from the leading management journals.
Dr. Pablo Munoz Roman is a social scientist trying to do useful research. His research looks at how entrepreneurship, in its mundane and complicated forms, creates value for society. With a focus on engaged scholarship, he explores how individuals use entrepreneurship to overcome challenging circumstances and build a more sustainable future and how to better conceptualise and measure the value of entrepreneurship.
Main topics to be covered during the webinar:
Understanding the social impact;
Social factors thar are important for companies;
How to capture social impact;
How to quantify and correctly measure social impact;
4 novel social impact measurement methods discovered by Dr. Pablo Munoz.
The programme is jointly implemented by several representatives of education and industry – Stockholm School of Economics in Riga, Latvian Academy of Arts, Riga Graduate School of Law, Rēzekne Academy of Technology, consulting company Civitta Latvija and industry partners (Latvian Social Entrepreneurship Association, Zero Waste Latvia, Techhub, Institute of Solid State Physics, University of Latvia, Rezekne Business Association, Latvian Electrical and Electronics Industry Association).
The event will be held in English. It is required to register for the event through the following link: https://tinyurl.com/9zjrut6h
More information about the ESI Student Innovation Programme and application for other events:
Website: https://esi-startup.lv/
Facebook page: https://www.facebook.com/ESIdrosmigs
LinkedIn page: https://www.linkedin.com/company/esidrosmigs
E-mail: info@esi-startup.lv
---
The programme is co-financed by the European Regional Development Fund, Printify, SEB and RIMI.
Project number: 1.1.1.3/21/A/008.a.