SSE Riga student/graduate duo receives grant for developing start-up company
SEB Bank grant of 10 thousand euros as the grand prize has been awarded to DoctoWell - a startup co-founded by graduate Auseklis Sarkans and SSE Riga student Dāvis Auškāps. The startup aims to improve the operational efficiency of healthcare institutions by applying digital automation technology.
There were two startup projects that merged together to create DoctoWell. Auseklis has been developing dentistry software solutions since 2016 and co-founded DoctoWell together with Dāvis, who joined this year by having successfully graduated from the SSE Riga Business lab with another HealthTech startup project, ODO.
SSE Riga Business Lab, led by entrepreneurial experts Viesturs Sosārs and Daniel Melse, offers students hands-on team-based learning opportunities to develop a product or service. It is one of the six modules of the Entrepreneurship specialization course.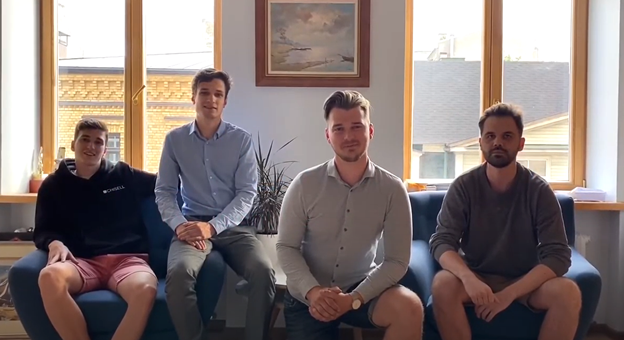 ODO was a startup that emerged from the SSE Riga Business Lab and was co-founded by Dāvis together with fellow SSE Riga graduate Nikita Cikaluk (Class of 2020), an exchange student at SSE Riga Toms Lencbergs and students from other Latvian universities Helēna, Rinalds and Tanya. The team created a functioning two-sided marketplace prototype to improve the communication of patients and healthcare specialists. Nikita and Toms remain in an advisory role for marketing and export while successfully leading their own companies within their expertise. The rest of the former team pursue other projects.
The CEO of the company Auseklis Sarkans (Class of 2011) states:
"Healthcare is on the verge of digital transformation and we as an innovative and AI technology-based startup are defining new standards of how it will evolve."
Auseklis Sarkans has founded several businesses and startup projects in IT and real estate industries. He is investing his vast experience to design innovative IT products and business models for the healthcare and real estate sectors.
The COO of the company Dāvis Auškāps (Class of 2021) adds:
"At DoctoWell we solve current and fundamental healthcare issues such as market opacity, inefficiently managed resources and stagnating productivity. Our mission is to help society and boost economic growth by improving clinics' operational efficiency and data accessibility. Solving the issues of all three stakeholders creates virtuous cycles, providing robustness for our business model."
Dāvis is experienced in data analysis and digital marketing. He is currently also the Teaching Assistant of the Entrepreneurship Specialization course at SSE Riga.
About DoctoWell:
The platform features a comprehensive diagnostics and treatment planning tool for healthcare specialists to minimise their effort. For clinics, it is a resource management and analytic tool to minimize costs and maximize revenue. For specialists, it is a comprehensive treatment planning and diagnosis tool. For patients, it is a marketplace where you can access vital information and make one-click appointments.
After completing the market research and co-creation process, we have launched the platform for the dentistry segment; it is the only available software service in Latvia that offers dentists an easy-to-use and effective digital work environment. Our next objectives are to expand our business to other healthcare market segments and geographic regions.
The grant was awarded within the SEB "(ie)dvesma" support programme for young entrepreneurs implemented by SEB Bank together with partners. Congratulations!
To learn more about DoctoWell vision and innovative solutions connect with us on LinkedIn or visit www.dentic.lv