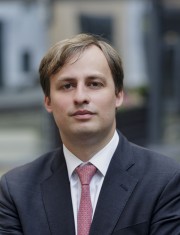 Romanenkov Yuri
Executive Vice President - Development. Lecturer. BSc Courses: Retail Management Specialisation; Strategy
Department of Business and Management
Yuri Romanenkov is the Executive Vice President of Development and a Business Administration faculty member at the Stockholm School of Economics in Riga.
Yuri's teaching experience includes a role as the Course Director for Strategy at SSE Riga that he held since 2015 and, prior to that, teaching undergraduate micro- and macroeconomics with Prof. NG Mankiw at Harvard University in 2013-14.
Prior to joining SSE Riga, Yuri has worked as a management consultant with the Boston Consulting Group in the firm's London office serving clients around Europe and North America on a range of executive topics.
Yuri holds an MBA with Distinction from Harvard Business School and BSc in Economics & Business from SSE Riga.