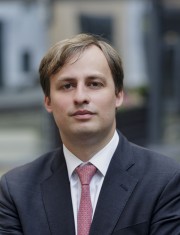 Romanenkov Yuri
Executive Vice President; Chairman, Executive Programmes; Chairman, Institute for Strategy; BSc Courses: Strategy; EMBA Courses: Competitive Strategy; Corporate Strategy
Department of Business and Management
Yuri Romanenkov is the Executive Vice President of the Stockholm School of Economics in Riga, Chair of Executive Programmes (incl. the SSE Riga EMBA), Chair of the SSE Riga Institute for Strategy, and a senior Lecturer in Business Administration.
In addition to his academic work, Yuri advises corporate executives and private equity investors around Europe on strategy, M&A, and business transformation, building on 15 years of experience as a management consultant, incl. with Boston Consulting Group in the firm's London, New York, and Paris offices. His prior teaching engagements include teaching undergraduate micro- and macro-economics at Harvard University.
Yuri holds an MBA with Distinction from Harvard Business School, a BSc in Economics & Business from SSE Riga, and is currently a doctoral candidate at SDA Bocconi where his research is on the implications of business ecosystems on vertical industry structure.