Meet Alex Felman – the host of the podcast 'What's Next?'
The ESI Student Innovation Program podcast 'What's Next' features 16 mini-series focused on sustainability, with experts from the field and student teams participating in the program. The podcast is hosted by Alex Felman, who teaches the Entrepreneurship course at the Stockholm School of Economics in Riga
POSTED ON August 27, 2023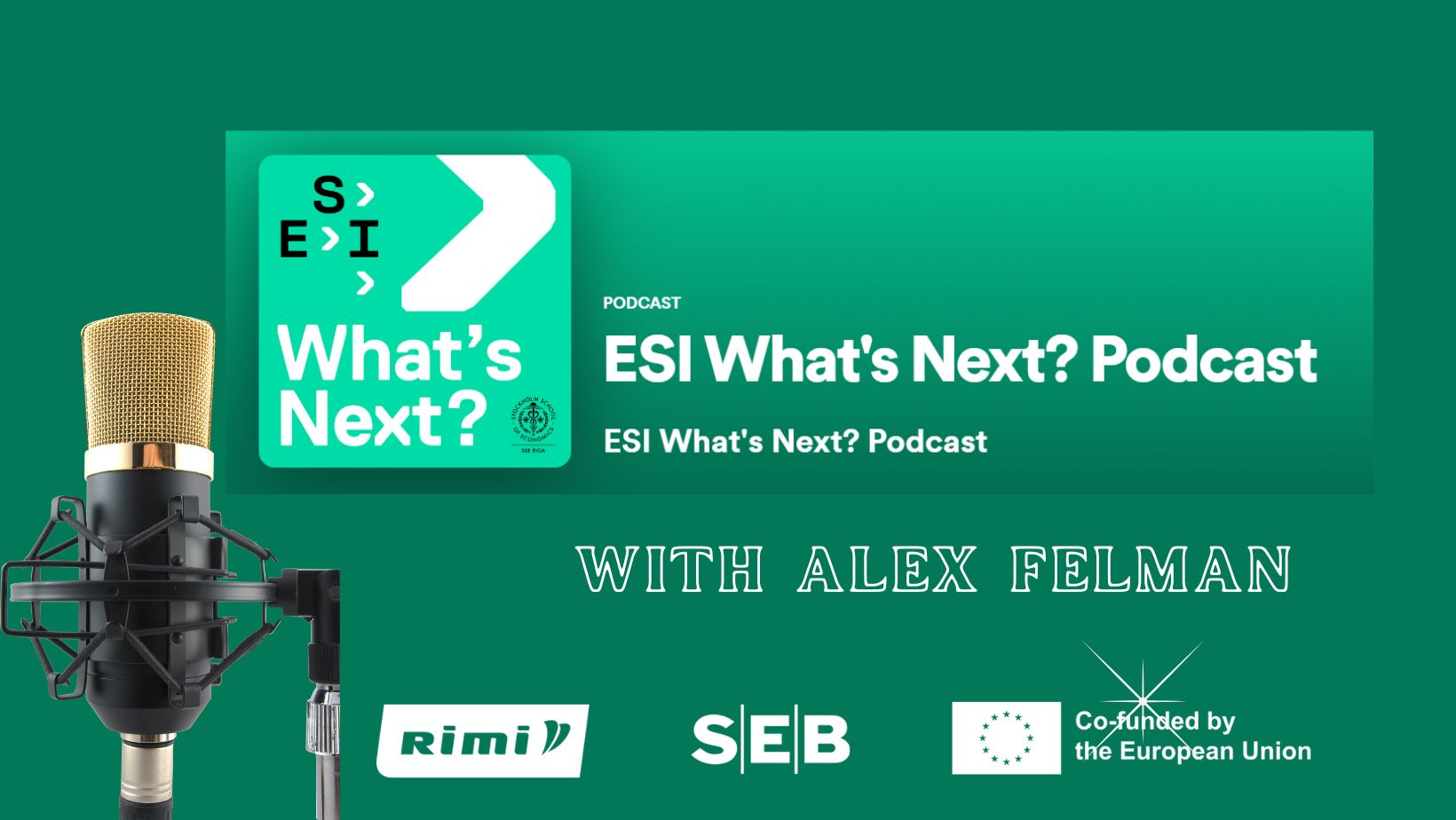 Alex is an entrepreneurial professional with diverse experience. While having a degree in biochemistry and commercialization of science, he currently runs his own business 'Bloom creative technologies', which offers podcasts for brands to build relationships with communities. Additionally, Alex works on the investment side, running a European branch for the 'Felman Family Office' that is located in New York. He is also actively involved in the startup ecosystem, giving speeches, leading workshops, and offering advisership and mentorship for startups and venture funds.
He explains that the idea behind the ESI podcast was to democratize knowledge and make it accessible to everyone, as well as to create the context for sustainability topics so that more people are engaged.
"We can help people who are not in the field to have the basic level of understanding, and then they can become part of the conversation. If you give everyone the baseline, then you can be involved."
Therefore, the show is structured in a mini-series where he invites experts, scientists and entrepreneurs to talk about what they love and engage with students.
"If you think about the range of places, they go as far East as Israel, and then we have Los Angeles and California, and everything in between. Roughly speaking, that is half the globe". He also stresses that it helps to get more people aware of Latvia and things happening here.
"I thought that is a good and easy way to help students grow the network and get feedback from people in the field". Some of the invited experts have created a long-term collaboration with students, which is a significant success. Alex also highlights that the majority of guests are very open towards participating in the podcast because they get a chance to talk about what they love and are passionate about. The show is very relevant for the people, and that makes it easy to find guest speakers. "Aim bigger, aim higher. As long as you structure your show in a way that focuses on things that others care about, you can aim much higher, so use that to your advantage."
"Overall, I think that the startup and innovation ecosystem in Latvia is still in its development cycle, but that actually makes it more exciting, as it is hungry and driven, which is a big strength," says Alex Felman. He thinks that what matters is having a 'global first' mentality, as physical borders have less significance, especially for digital companies.
"Let's say you are a surfing enthusiast. If you want to start a company, it does not make sense to expand from country to country, but rather to look for surfing communities across the globe. It is about who the customers are rather than where they live."
When thinking about advice to students, Alex says: "A lot of people say that you have to follow your passion, but I think that it is more nuanced. It is the effect, not the cause. You should follow your curiosity, and then you become passionate, but curiosity comes first. Therefore, my advice is to ask as many questions as you can. Then you end up becoming passionate." He also wishes students to stick with their projects and not give up, as he has noticed a lot of good business ideas.
You can listen to all the podcast series here: ESI What's Next? Podcast | Podcast on Spotify
More information about the ESI Student Innovation Programme and application for other events:
Website: https://esi-startup.lv/
Facebook page: https://www.facebook.com/ESIdrosmigs
LinkedIn page: https://www.linkedin.com/company/esidrosmigs
E-mail: info@esi-startup.lv
---
The program is co-financed by the European Regional Development Fund and supported by SEB Latvia and RIMI Baltic. The program is organized by the Stockholm School of Economics in Riga, Riga Graduate School of Law, Latvian Academy of Arts, Rēzekne Academy of Technology, Techhub Riga, and other industry partners. Project number: 1.1.1.3/21/A/008.a.