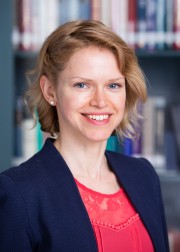 Banziņa Elīna
Assistant Professor. Lecturer. BSc Courses: Academic English; Speech and Accent Training; EMBA Course: Academic Writing
Department of Languages and Communication
Elina Banzina holds an M.A. in Teaching English as a Second Language from the University of Illinois at Urbana-Champaign (UIUC), USA, and a Ph.D. in second language speech acquisition from Bowling Green State University (BGSU), USA. Prior to coming to SSE Riga, she taught academic English, conversational English and American English pronunciation to international students at UIUC, BGSU, The University of Texas, and The Ohio State University.
At SSE Riga, she teaches undergraduate courses such as Academic English, English Pronunciation and Business Correspondence, and the foundations of academic writing in the EMBA program. Her research interests involve the perception and production of foreign-accented speech and persuasive speech in English, as well as pronunciation teaching techniques, and she has recently launched an intensive phonetic training program for Latvian in-service English teachers.

Education
MATESL, PhD
Research interests
Second language speech perception and production; foreign accent modification; pronunciation teaching methodology; persuasive speech
Selected publications
Banzina, E. (2021). Exploring phonetic cues to persuasive oral presentation: A study with British English speakers and English L2 learners. Language Teaching Research. https://doi.org/10.1177/13621688211037610
Baese-Berk, M. M., Dilley, L. C., Henry, M. J., Vinke, L., & Banzina, E. (2019). Not just a function of function words: Distal speech rate influences perception of prosodically weak syllables. Attention, Perception, & Psychophysics, 81(2), 571-589.
Banzina, E. (2016). Consonant lengthening for persuasiveness in L1 and L2 English. International Journal of Applied Linguistics, 26(3), 403-419. doi: 10.1111/ijal.12137
Banzina, E., Dilley, L.C., & Hewitt, L.E. (2015). The role of secondary-stressed and unstressed-unreduced syllables in word recognition: Acoustic and perceptual studies with Russian learners of English. Journal of Psycholinguistic Research, 1-19.
Banzina, E., Hewitt, L.E., Dilley, L.C. (2014). Using synchronous speech to facilitate acquisition of English rhythm. EuroAmerican Journal of Applied Linguistics and Languages, 1(1), 69-84.
Dilley, L., Morrill, T., Banzina, E. (2013). New tests of the distal speech rate effect: Examining cross-linguistic generalization. Frontiers in Psychology, 4, 1-14. doi:10.3389/fpsyg.2013.01002
Baese-Berk, M. M., Dilley, L. C., Henry, M., Vinke, L., Banzina, E., & Pitt, M. A. (2013). Distal speech rate influences lexical access [Abstract]. Abstracts of the Psychonomic Society, 18, 191.


Involvement in projects
English Language Teacher Professional Development Project, Latvia, 2016-2017
Membership in professional organizations
Member of the Latvian Association of Teachers of English
Grants and awards
Recipient of J. William Fulbright Student Fellowship, 2005
Recipient of Alpha Delta Kappa (International Honorary Organization for Women Educators) International Teacher Education Scholarship, 2006