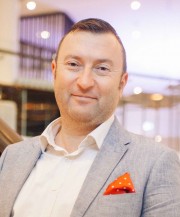 Zashev Peter
Adjunct Professor. EMBA Course: Leading Change
Department of Business and Management
Peter Zashev is an academic, business trainer and high-energy speaker on leadership, change and strategy. Peter has 18 years of executive education experience working with the management of big companies across Europe and mainly in the Nordic countries, the Baltic States and Russia. His combination of skills and experience features:
Academia - holding a MSc degree from the St Petersburg State University in Russia and a PhD from Hanken School of Economics in Finland, currently Peter is a Professor (adjunct) at the Stockholm School of Economics in Riga. His academic interests include leadership and management, international business strategy and entrepreneurship, and cross-cultural communications.
Business - Peter is a board member and co-owner of several successful companies. His consulting experience features many private customers and projects in international business strategy and marketing as well as offering expert services to national and international organizations such as UNCTAD and the EU.
Multi-cultural - Peter is Bulgarian by origin, Finnish by nationality, Estonian by residence, half Swedish by workplace and with an extensive Russian experience. He speaks English, Russian, Bulgarian and Finnish.