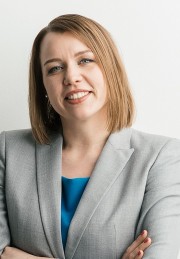 Nadricka Kristina
Visiting Lecturer. BSc Specialisation Course: Retail Management Specialisation. EMBA Course: Service Design
Department of Business and Management
Kristina teaches Customer-Centric Service Design for the Retail Management Specialisation and supervises Bachelor Thesis.
Kristina has 12 years of leadership background in customer experience strategy, customer-centric service and value creation, and customer sales network management for Baltic leading financial institutions. She is a co-founder of strategic service design consultancy Rethink helping companies improve their customer experiences.
Kristina is a PhD candidate at the Marketing Department of the Vrije Universiteit Amsterdam (Netherlands). Her research interests are consumer behavior, nudging for better consumer choices and sustainable consumption. Kristina's PhD project focuses on the consumer perceptions and purchase decisions for healthy food choices.