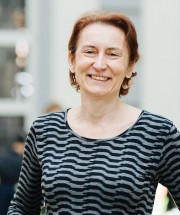 Hellström Katerina
Visiting Lecturer. EMBA Course: Financial Reporting and Financial Analysis
Department of Accounting and Finance
Katerina is assistant professor at the Department of Accounting at Stockholm School of Economics (SSE). She received her PhD from SSE in 2009. She teaches accounting courses on bachelor, master and executive level. She is associate academic director and area principal for accounting and finance at SSE Russia. At SSE, she is program director for Master in General Management since 2013.
Katerina´s area of research is accounting and disclosure quality (papers have been published in European Accounting Review and presented at a number of accounting conferences) and customer related measures and their effects on financial performance of firms (currently, she is a member of an international research team from Sweden, UK and Russia).
Katerina has previously lectured at Stockholm University, Uppsala University and the Royal Institute of Technology in Stockholm. For many years she has been teaching bachelor students at SSE Riga. Currently, she also runs courses in Group accounting for the Association of Swedish Accounting Consultants (SRF).
Katerina is fluent in Swedish, English, Czech, German and Russian. She holds also an academic degree in literature and linguistics. She is a mother of two and in her spare time she likes physical training.