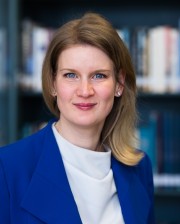 Fredheim Kata
Executive Vice President of Partnerships and Strategy and an Associate Professor. BSc Courses: Economic Anthropology; Market Research; Global Challenges
Department of Business and Management
Dr Kata Fredheim is currently serving as the Executive Vice President of Partnerships and Strategy and an Associate Professor in Economics and Business at SSE Riga. She brings over fifteen years of experience in higher education partnership and strategy development, having previously headed the University of Cambridge's International Strategy Office.
At SSE Riga, Kata is responsible for strategy and partnerships, including research development, international strategy, entrepreneurship, and funders.
As a social anthropologist, Kata's research focuses on migration, internationalization, and higher education. Her most recent work is on Ukraine. She directs courses in Economic Anthropology, Market Research, and Global Challenges, and serving as the director of the Women in Leadership executive course.
Kata holds degrees from Utrecht (NL), Bristol (UK), and Canterbury (NZ).