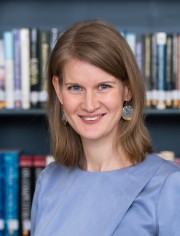 Fredheim Kata
Executive Vice President - Partnerships and Strategy; Assistant Professor. BSc Courses: Economic Anthropology; Market Research; Global Challenges
Department of Business and Management
Dr Kata Fredheim joined SSE Riga in 2017; she is the Executive Vice President Partnership and Strategy.
At the University of Cambridge Kata headed the International Strategy Office. There she developed international strategy and major interdisciplinary international partnerships, and secured funding. To advance Cambridge's ambitions globally she worked with governments, funders, and other research institution leading a high performing team. Kata used her experience as an entrepreneur to developed the Judge Business School's accelerator programme, helping early stage ventures succeed.
Kata is a social anthropologist. Her research is on migration, internationalization and Brexit. She taught in New Zealand and the United Kingdom. At SSE Riga she is course director for Economic Anthropology and Market Research. She holds degrees from Utrecht (NL), Bristol (UK) and Canterbury (NZ).